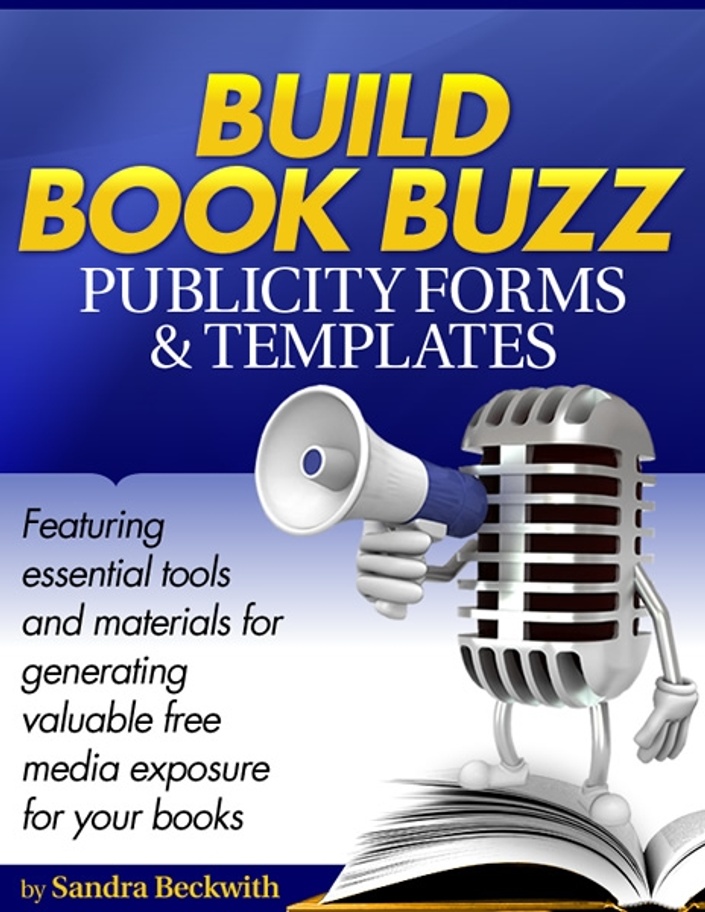 Build Book Buzz Publicity Forms & Templates
Featuring essential tools and materials for generating valuable free media exposure for your books
"Save thousands of dollars in book publicist fees with this comprehensive collection of fill-in-the blanks media relations tools designed to help you sell more books!"
Dear Author: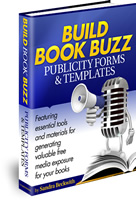 You know the importance of selling books. It goes beyond cashing royalty checks – the advance on your next book often depends on how many copies your last book sold. And if you're self-published, sales mean money in the bank – immediately.
But you can't sell books unless people know about them, and that's the problem. And it's your problem, not the publisher's. A publisher makes your book available for purchase, but it's up to you to make certain people know it's there to buy.
If book promotion isn't in your skill set, you have to pay thousands of dollars to a publicist who might or might not be good, right?
Wrong.
You don't have to spend thousands of your hard-earned dollars on a publicist to generate the buzz that leads to book sales. You can do it yourself and you can it do it very well.
It doesn't matter what you do or don't know about book promotion right this very minute. I've got the combination to the lock on secrets of top publicists and I'm going to give that combination to you.
Help is here. Serious help. I'm talking about the kind of help that can make a huge difference in your results – and your bank account.
I've assembled an incredible downloadable workbook that is brimming with easy-to-use book publicity forms and templates – and detailed instructions on how to use them so you'll get fantastic results. If you can string together coherent sentences and want your book to succeed, you'll be able to use this workbook to create all the tools you need to generate incredible book buzz.
You'll learn how to create and use each media relations tool. Here's just a sampling of what you can do with these tools:
Generate book reviews
Snag valuable interviews with local, regional and national journalists representing all types of media outlets
Secure exposure on the blogs of influential thought-leaders
Create an attention-getting press kit containing the most sought after information about your book
Generate radio talk show interviews and prepare the host for a thought-provoking, controversial or fascinating conversation with you, the expert
Convince a reporter that your credentials make you the ideal expert source for an article
Provide media outlets with tips and advice they will use because their audiences need the information only you can provide
Syndicate informational articles online
Achieve your communications goals with every single media interview
Publicize any and all news associated with your book
Position yourself as a credentialed expert resource
The material in Build Book Buzz Publicity Forms & Templates will save you oodles of money.
It's hard to put a price tag on information, but industry experience tells me that the tools in this workbook will save you thousands of dollars in publicist fees. Thousands. And who knows what they might generate in book sales? It's exciting to think about!
Who knows your book better than you? Who knows your book's media angles better than you? Who wants this book to succeed more than you?
Nobody. This is your job. And I'm giving you what you need to do it well and at a mere fraction of the cost of hiring a specialist.
I've created the forms in this workbook from my way too many years of experience as an award-winning publicist. But because I'm such a stickler for giving you the best value for your money, I spoke with others in the business, too – top book publicists and industry insiders who know what works and what doesn't – to make sure what I've got in this priceless workbook is as good as it can be. And it is.
Here's what people who have used Build Book Buzz Publicity Forms & Templates are saying about it:
"As a first-time author your Build Book Buzz templates were an incredible value. Saved me a ton of time and more importantly ensured that my first effort was a professional one. In the first three days of my publicity efforts, three editors have downloaded material that was built from your templates. Thanks for everything."
Kevin Kruse, author
We: How to Increase Performance and Profits through Full Engagement
* * * * *
"It was about page 20 when I realized I could quit holding my breath. This time my hopes weren't too high. This workbook really was going to make promoting my book a clean, simple task. I wish I had found this resource before dropping hundreds on those other tomes, the ones that just created panic over how much I had to do, and how little I knew how to do it. Build Book Buzz Publicity Forms & Templates is, like, the preschool-easy path to a doctoral degree. Phew! That's all I can say.
"Wait, no. There's one more thing I can say. I was all set to pay a marketing service to create and distribute my book's press release. God knows that's outside of my skill set. It was guaranteed to reach "at least 1,000, and up to 10,000." Sounds great, right? Totally worth the $598!
"Luckily, I found Build Book Buzz Publicity Forms & Templates before I pulled the trigger. On page 25 of this workbook, I found a fill-in-the-blanks form for creating my own pro-quality press release. Then, on page 65, I learned of a service that will send it to every U.S. newspaper with a circulation greater than 50,000…for $125! So with pages 25 and 65 alone, Build Book Buzz Publicity Forms & Templates saved me a cool $473. Phew, indeed."
Cyndy Drew Etler, author
STRAIGHTLING
* * * * *

"The most successful authors are those who take responsibility for promoting their own titles. This workbook is a valuable resource for those who want to make certain their books get the exposure they deserve."
Andrea M. Rotondo, senior editor
Barnes & Noble Publishing
* * * * *

"I highly recommend the Build Book Buzz Publicity Forms & Templates workbook. Even though I've been writing press releases for 15 years, I picked up a new tip from the workbook about how to write them more effectively. And after posting my Author Q&A on my Web site, it was reprinted in several national magazines. That was great (free) publicity for my new book."
Candy Harrington, author
101 Accessible Vacations: Travel Ideas for Wheelers & Slow Walkers
* * * * *
"Using Build Book Buzz Publicity Forms & Templates, I was able to quickly create my first tip sheet, which is generating local and national interest in my new book. Instead of hiring a publicist to do this for me, which would have cost at least $500, I learned exactly how to put it together myself for maximum impact. And that's just one of the tools! I'll easily save myself thousands of dollars because I'll be able to prepare all the publicity documents I need for my latest book using the contents in this workbook as my guide."
Marcia Layton Turner, author
Create Your Vision Board: The 2-Hour Guide to Attracting the Life You Want
* * * * *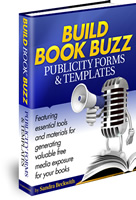 These tools are precisely what authors need, whether you've got a traditional publisher, are self-published, or used print-on-demand services. Need more evidence? Here's a list of forms and samples in this 70+ page workbook:
Message development template
Sample message
Book announcement press release writing form
Sample book announcement press release
Author bio form
Sample author bio form
Author Q&A template
Sample author Q&A
Tip sheet writing template
Sample tip sheet
Press release writing form
Sample press release
Press kit quiz template
Sample press kit quiz template
Book review form
Sample book review form
Web site press room template
Sample Web site press rom
Virtual book tour e-mail pitch template
Sample virtual book tour e-mail pitch
Radio talk show e-mail pitch template
Sample radio talk show e-mail pitch template
Article or segment pitch letter form
Sample article or segment pitch letter
Syndicated article writing template
Sample syndicated article
Create a sound bite form
Sample sound bites
Book publicity plan template
Sample book publicity plan
And, to make it as easy as possible for you to use, Build Book Buzz Publicity Forms & Templates comes to you in a downloadable Word file.
I've created this as a Word file, instead of a PDF file (the format used for many e-books), because Word lets you create new documents by copying the templates and then typing right into the spaces I've left for you. You can't do that with PDF files.
I know what authors need when it comes to tools.
I'm a recovering publicist – I don't work for hire anymore but I can't give it up so I teach others how to do it themselves. Years of training and coaching authors has helped me uncover what most do and don't know about book promotion.
I've created this "digital" workbook to help fill in the knowledge gaps, giving you everything you need to reach out to the traditional and online media, whether you're pitching yourself as a TV talk show guest, offering to write a column for a local business journal, or writing an article for someone else's e-zine.
Start saving money now by creating your own book publicity materials with the incredibly valuable information offered here.
You're in the best position to identify and communicate what's new or groundbreaking in your nonfiction book or novel and to uncover story ideas you can pitch to the media. And you'll save a ton of money using the tools here.
And this workbook is so affordable, especially considering the high fees a publicist would charge to create the essential media relations tools you'll learn about in Build Book Buzz Publicity Forms & Templates.
Here's how inexpensive this workbook really is. The price is only $67.
You will get your workbook quickly through a link you receive automatically via e-mail. Use the link to download the workbook file and save it on your computer.
Start making exciting things happen for your book! It deserves the attention you can give it when you purchase Build Book Buzz Publicity Forms & Templates.
Wishing you success,
Sandra Beckwith
BuildBookBuzz.com
Your Instructor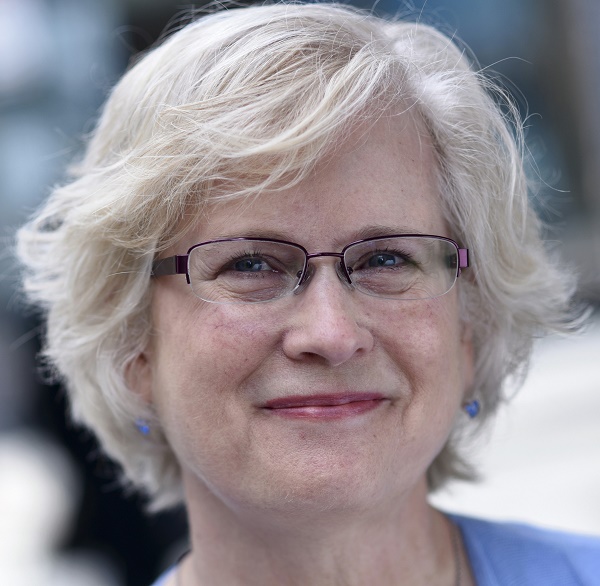 Sandra Beckwith is an author and national award-winning former publicist who now teaches authors how to save thousands of dollars by doing their own publicity, promotion, and marketing. You might have seen her on "The Montel Williams Show," or "CBS This Morning," or read about her in The New York Times, The Wall Street Journal, or USA Today. Feedspot has ranked her website, Build Book Buzz, as # 7 among thousands of book marketing blogs; it has also been named a top website for authors and writers seven other times.
Course Curriculum
Build Book Buzz Publicity Forms & Templates
Available in days
days after you enroll
Frequently Asked Questions
How long do I have access to this downloadable product?
How does lifetime access sound? After enrolling, you have unlimited access to this file for as long as you like - across any and all devices you own.
What if I am unhappy with the product?
We would never want you to be unhappy! If you are unsatisfied with your purchase, contact us in THE FIRST 30 DAYS and we will give you a full refund. Note that the system does not allow refunds after 30 days.
What format does this product use?
You'll receive a downloadable Word file. This format lets you copy and paste each template or form into a new file. Using this approach lets you preserve the original templates as delivered, which, in turn, lets you use them over and over as needed for new books and materials.